The term "creative economy" translates to the focus on creative occupations and a creative mindset which can be applied in a wide range of activities. Film, design, TV/radio, video, advertising, performing arts, and architecture comprise the creative economy.
In Ventura County, the creative economy ranks above average nationally, accounting for $3 billion in economic output.
Read the Ventura County Creative Economy Report to learn about evolving sectors and the immense opportunities they present. View the full report here.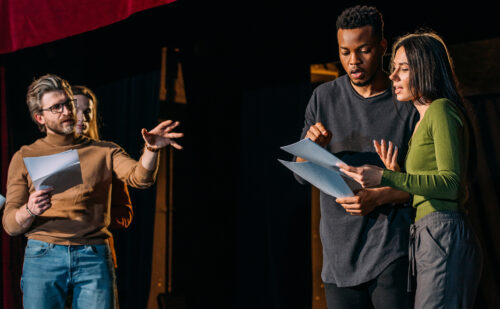 Active Support for the Arts
As an active arts community is a stimulus to the local economy, Ventura County and its local governments show support through direct investment, public-private partnerships, and assistance to non-profit groups. ArtsVentura, a non-profit public benefit corporation, also promotes the arts within the city of Ventura and surrounding area. The organization fosters collaboration between artists and arts groups and provides technical assistance and resource development to the arts and other community groups.
The arts are evident in virtually every corner of Ventura County. The county and its cities contribute to at least two choral groups and to many musical events throughout the year. Every town in the county has an art and/or history museum—from the Maritime Museum in Port Hueneme, the Chumash Indian Museum, the Carnegie Art Museum and the Gull Wings Children's Museum in Oxnard, the Ventura Museum of Art and the Agricultural Museum in Santa Paula, to the railroad museum in Fillmore. Several art centers and galleries, including a mixed-use housing project with artists' studios in Ventura, as well as a restored historic theater, also contribute to the Ventura art scene.
Ojai, Ventura and Thousand Oaks, in particular, have exceptionally rich art scenes. In Ojai, you'll find outdoor stages as well as the Ojai Music Festival, nationally recognized as "four days of musical brainstorming," bringing an eclectic blend of music to the county from renowned musical directors since 1947. Thousand Oaks features large-scale performing arts venues, while small stages can be found in educational sites, in California State University Channel Islands, as well as Ventura/Oxnard/Moorpark Community Colleges and Cal Lutheran University.
Ventura County has been home to pioneering companies in the music and entertainment industries. In the early 2000s, the Ventura County Film Commission was established to foster an Increase in local location production and production days and to connect production companies to locations and permitting ordinances.
As a result, Ventura County has been the backdrop for movies and television shows, having earned a reputation as a desirable destination for film, commercials, television and photo shoots. Over the years, studios have filmed several movies, TV series, commercials and photo shoots in the city of Simi Valley and throughout the county—including Erin Brockovich, Little Miss Sunshine, The Aviator, Swordfish and The Two Jakes, That '70s Show, The Rookie, Diners, Drive Ins & Dives, and numerous commercials, particularly car commercials. In 2022, there were 4,199 production days in Ventura County. The total economic impact is estimated to be at least $90 million.