Key industry sectors in the Ventura County economy include agriculture, manufacturing, life sciences, health services and travel/tourism/hospitality. Each contributes substantially to the economic output of the county and contains the largest employment base.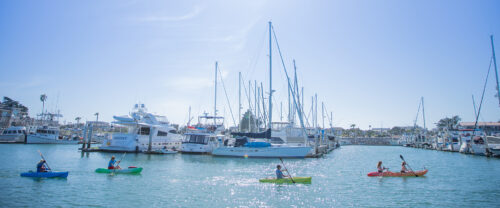 Ventura County is known for its diverse and robust agricultural industry. The mild Mediterranean climate makes it ideal for cultivating a wide variety of crops year-round. Major crops include strawberries (the county is often called the "Strawberry Capital of the World"), citrus fruits, avocados, cruciferous vegetables and berries. A large footprint of greenhouse and nursery operations nourish flowers, tomatoes, and more recently, cannabis. Ventura County has provided the soil for the growth of global, publicly traded agricultural powerhouses like Limoneira and Calavo.
On the ag tech front, county growers have been at the forefront of the science-based precision agriculture movement. The wide use of specialized software, sensor technology, GIS information, and aerial imagery, which provide data about soil conditions, soil moisture levels, weather patterns, and crop health, gives growers the information they need to optimize the use of resources like water, fertilizer, and pesticides. Farming in Ventura County is a state-of-the-art operation.
Manufacturing and Advanced Manufacturing
Ventura County is home to a vast range of manufacturers, many of which are globally recognized leaders in their fields. From aerospace and defense to medical devices and technology, the county's attractive location and access to an educated labor pool make it an ideal home for advanced manufacturing companies. Success stories include Haas Automation, one of the largest CNC/machine tool builders in the U.S., and global names like Teledyne, Pentair, Baxter Healthcare and DW Drums.
A significant cluster of new technology activities is popping up in Ventura County, with a concentration around Camarillo. Companies like PBS Biotech, Inc. and Cylex have found a home in the city. Amgen, one of the best-known biotechnology companies in the world, is based in Thousand Oaks, while dozens of others also make Ventura County their home. In fact, the list reads like a who's-who in life sciences and biotech, including Amethyst Life Sciences, which brings together capable teams of creative scientists and engineers with experienced business executives to address underserved markets, as well as Savesta Life Sciences and Biocom California.
Healthcare continues to grow in Ventura County. The largest job growth over the next five years is projected to continue in traditional service-oriented sectors including the healthcare sector. Today, the healthcare sector in the City of Ventura is its largest employer; the largest private-sector employer is Community Memorial Health System, which runs the non-profit Community Memorial Hospital.
Travel, Tourism & Hospitality
Travel and tourism are an economic engine for Ventura County. Visitors contributed nearly $1.8 billion in total travel-related spending. The region has plenty to offer, from surf-town vibes to small-town charm, without breaking the bank. Ventura County boasts moderate temperatures all year round, which makes it ideal for adventures in the great outdoors, like surfing and kayaking. Just a short distance off the coast, visitors can also explore Channel Islands National Park, one of North America's magical treasures.