The Port of Hueneme is a seaport located in Ventura County on the Santa Barbara Channel, about 60 miles northwest of the major metropolitan center of Los Angeles. It has the distinct honor of being the only commercial deep-water port between Los Angeles and San Francisco. It also has an enviable location, as it's adjacent to major populated urban areas, automotive epicenters and California's agriculture heartland.
The Port of Hueneme is one of the most productive and efficient commercial trade gateways on the west coast. In fact, it's considered a major economic engine in Ventura County and a vital niche market port for autos, fresh produce, general cargo, bulk liquids and fish—handling billions in cargo, generating millions in economic activity, and providing thousands of port-related jobs. Another distinction: Port of Hueneme consistently ranks among the top 10 U.S. ports for fresh produce and automobiles, with the largest on-dock cold storage facility on the west coast and nearly a dozen auto processing centers close by.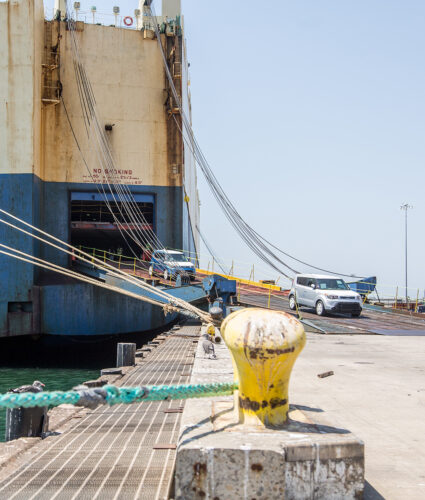 Green Marine Certification
Equally important, Port of Hueneme is Green Marine-certified, adhering to the highest standards to keep the air and water clean, and the communities thriving. Green Marine is a North American environmental certification program for the maritime transportation industry that stems from the maritime industry's voluntary initiative to surpass regulatory requirements. The program assists Port Hueneme and its terminal operators and shipping lines in reducing their environmental footprint, addressing key environmental issues and criteria using 11 performance indicators—air emissions, prevention of spills and leakages, community impacts and environmental leadership.
Leaders in Maritime Innovation
The port is also no stranger to innovation. Since 2019, the Port of Hueneme has been a partner in FATHOMWERX together with the Economic Development Collaborative, the Naval Surface Warfare Center/Port Hueneme Division, and Matter Labs.
FATHOMWERX invites entrepreneurs with an optimized solution a place to carry out sustained research, experimentation and test programs in order to accelerate the delivery of innovative capabilities to the Department of Defense in both port and maritime environments. The Port of Hueneme hosts a 20,000-square-feet lab dedicated to testing, prototyping and innovation, with another 40,000 square feet of flex space for demonstrations, events and exercises. In 2022, the California Office of the Small Business Advocate (CalOSBA) designated FATHOMWERX to be among 10 inclusive innovation hubs in the state through 2025.
Port Hueneme means business, but it is also deeply involved in the local community, providing educational programs for local students and supporting dozens of nonprofits, community events and festivals.