The essence of entrepreneurship goes beyond mere ideas. It's about bringing them to fruition. It's about finding an environment that champions innovation, offers robust support, and inspires consistent growth.
Ventura County's Entrepreneurship Ecosystem stands as a beacon for those with ambition—a comprehensive, thriving network that magnetizes the entrepreneurial spirit.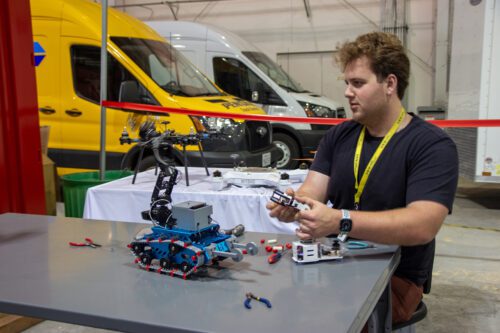 Resources for Entrepreneurs
An entrepreneur's journey is multi-faceted, and here in Ventura County, we offer resources to help you every step of the way:
EDC Cultivate & Ignite Tech Program – A springboard for tech-driven businesses, fostering growth and innovation from the ground up. Dive into their offerings.
FathomWerx – A haven for innovative minds, offering workspaces and technological resources, turning visions into realities. Check out their space.
805 Startups –  A dynamic entrepreneurial community fostering innovation, support and collaboration for startups in Ventura County. Visit their website.
Foundry 805 – Whether you're a budding entrepreneur with a groundbreaking idea or an early-stage startup ready to scale, Foundry 805 is here to support your journey. Foundry 805 is an ideal place to bring your entrepreneurial aspirations to life.
iHub – Ventura County's Inclusive Innovation Hub is a technology and resource program that helps facilitate growth for entrepreneurs and companies in technology. Reaching underserved and underrepresented companies, iHub2 collaborates with a broad partnership network of service providers throughout the region to offer a wide variety of networking, mentoring, and industry-focused events, workshops and networking events.
RC Makes – Operated by students at Rancho Campana High School, RC Makes offers a range of services, including a community makerspace, a build-to-spec job shop for individual and business customers, support for startup businesses, as well as expertise in video production, software development, and graphic design. Get making
Ventura BioCenter – A biotech business incubator offering labs and tools with an expanding community of scientists, engineers, educators, business and marketing experts, and dedicated volunteers. Their collective promotes scientific research and fosters biotech business growth within Ventura County. See their facility.
Idea Center | STEMbassadors – Launched in 2022, the Idea Center is a permanent makerspace location that offers marginalized youth the opportunity to bridge their education with innovation. High school students partner with local businesses and community members in the fields of Innovation, Design, Entrepreneurship, and Art. Check out the program.
Studies show that entrepreneurs are empowered by their physical surroundings, including the natural environment and the cities they live in. It's all about finding inspiration for sparking new ideas and reigniting the entrepreneurial spirit. Ventura County offers a perfect landscape for fostering an innovative and restorative mindset, ensuring entrepreneurs maintain balance and fulfillment in their pursuits.
Hummingbird Trail Hiking, Simi Valley
The entrepreneurial ecosystem of Ventura County encompasses far more than simple business endeavors. It promises a perfect blend of professional opportunities and personal rejuvenation, making it the ideal locale for entrepreneurs looking to achieve success while enjoying a thriving quality of life.
The heartbeat of entrepreneurship is felt most profoundly where innovation is not just recognized but revered, where resources are not just available but abundant, and where growth isn't an individual dream but a collective vision.
Ventura County embodies all of these virtues and more. Here, growth isn't just a goal—it's a way of life.