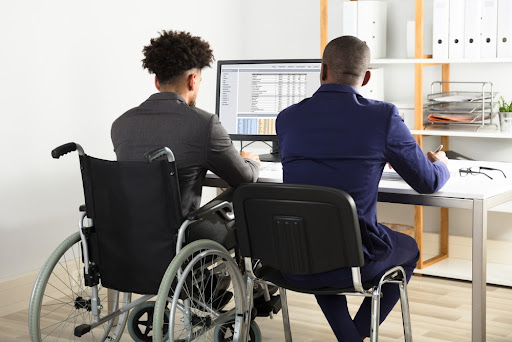 National Disability Employment Awareness Month: Setting up Non-Biased Work Policies
Not only does workplace inclusion enhance employee experiences, but it also enables employers to become better, more effective leaders. Inclusive work policies are a necessity to ensure that workers with disabilities are empowered at your workplace.
Here's how you can prepare for the upcoming National Disability Employment Awareness Month (NDEAM).
National Disability Employment Awareness Month 2021
In October each year, American organizations and individuals, including employers and workers, observe NDEAM. During the event, participants recognize the various vital roles that individuals with disabilities play in the workplace and economy.
The NDEAM theme for this year is, "America's Recovery: Powered by Inclusion."
How to Participate in NDEAM
The U.S. Department of Labor's Office of Disability Employment Policy (ODEP) encourages organizations to participate in this year's NDEAM campaign. The event provides you with an opportunity to show solidarity and support for the noble cause of inclusivity at work as a business, or any other organization/entity.
There are several ways to participate in NDEAM in October and throughout the year, including these recommendations from ODEP:
Review Your Inclusivity Policies

Revisit and critique your organization's employment policies. How is your workplace inclusivity plan coming along? Have you achieved a fully inclusive workplace culture? You now have a chance to review and make any necessary improvements to ensure your work policies are 100% non-biased.
Create an Employee Resource Group (ERG)

If you don't have an ERG in place yet, it's probably high time you established one in your organization. Employees with disabilities can join such a platform to network with colleagues with similar challenges or interests. Support from like-minded peers can help with career growth and job experiences for many workers with different types of disabilities.
Include Inclusivity in Leadership Training

It's important that supervisors adopt your inclusive workplace policies in earnest. These superiors engage your employees directly every day, so their support is very critical. You can train them to understand the importance of inclusivity and inclusion at work, and their vital role in achieving these objectives in your organization.
Involve Your Employees

Your employees have a vital role to play in the successful implementation of workplace inclusion. You should ensure that they understand and are adhering to your disability inclusion policies. To help with this, you can provide formal or informal disability education. Discussions or training can include topics like disability etiquette.
Publish Inclusive-themed Content

Create and share informative articles on the subject of inclusivity. For example, you can publish an employee newsletter content addressing your company's commitment or progress towards achieving inclusivity in the office.
Observe Disability Mentoring Day

The third Wednesday of each October is the official Disability Mentoring Day, although you can choose your own date to show support for the cause. On this day, participants reflect on practical strategies to help youth with disabilities advance their careers.
Issue a Public Statement on NDEAM

A press release would be ideal for letting your stance on inclusivity at work and NDEAM involvement be known.
Creating Your NDEAM Daily Schedule
After selecting your preferred NDEAM 2021 activities, you can create a schedule to streamline your participation. For example, the 1st of October can be the day you put up the official NDEAM 2021 poster on your organization's bulletin board.
You may issue your NDEAM press release later in October. This makes sense since you'll be writing from experience, having already got your company involved in a few NDEAM-themed activities like reviewing inclusivity policies or training supervisors.
Resources to Help with NDEAM Planning and Execution
ODEP has published multiple resources to help organizations plan well ahead of time and play a more productive role in this year's NDEAM campaign. These materials include a downloadable NDEAM 2021 poster, customizable drop-in content, and the following free samples:
NDEAM proclamation
NDEAM press release
NDEAM social media posts, tweets, and accessibility tips
Embracing inclusion at work is a key success factor for many types of businesses. If you'd like to learn more about accelerating business growth and development, contact us at Business Forward Ventura County today.
What can we help you find?
More News from Business Forward
Stay up to date on new developments, business opportunities and resources.